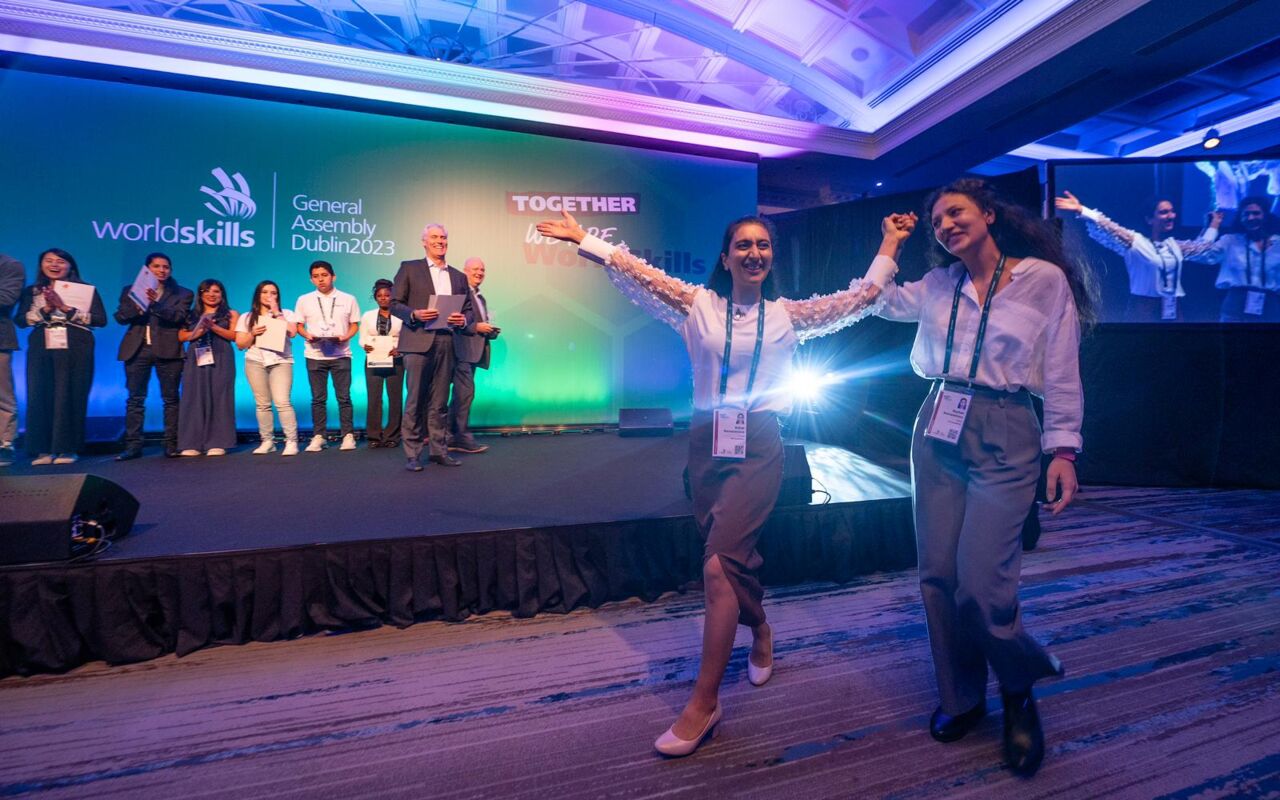 The entrepreneurial spirits were high in Ireland today. For the first time in four years, BeChangeMaker finalists pitched their ideas to a live panel of judges and a crowd of more than 200 delegates at the WorldSkills General Assembly Dublin 2023, as well as a global audience viewing online. With resounding cheers and much applause, Altogether was announced the winner.
Altogether was set up by Reyhan Ramazanova and Bahar Ramazanova, two lawyers and sisters from Azerbaijan, after Reyan became aware of the deeply ingrained historical discrimination against persons with disabilities during her studies as an international human rights lawyer. With Bahar, also a lawyer and a software developer, the two sisters built a mobile application that offers people easy access to legal information, lawyers, disability support centres, reporting, and compliance services.
They describe their service as "not just as a mere technological tool but as an empowerment resource, endowing individuals with knowledge and agency." Their long-term aim is to improve the lives of people with disabilities, as well as raise awareness about disability rights and improve inclusion within businesses and industries in their country and across the world.
The two sisters were delighted to win the prestigious social entrepreneur competition. Reyhan said, "We have been working on this day and night and I am so happy that our hard work has paid off. It's great to see a topic like disability talked about on a global stage like this." Bahar said, "We are confident that BeChangeMaker 2023 is going to open many global opportunities for us, help us find new partners, and support us to scale more easily."
Second place went to Medvax Health from Nigeria, a mobile application developed by two pharmacists focused on reducing health risks by providing swift access to safe medication at affordable prices. Third place went to I Hear U from Mexico, a digital platform and online community that offers affordable mental healthcare across Latin America. The impressive five finalists were:
Altogether (Azerbaijan)
Medvax Health (Nigeria)
I Hear You (Mexico)
Bluecrops (Colombia)
Ecojoy (Chinese Taipei)
BeChangeMaker is a start-up acceleration programme focusing on social entrepreneurship for youth and backed by WorldSkills and the HP Foundation. The programme is open to young people between 18-35 with ideas that support the development and wellbeing of their communities. Since 2017, it has attracted more than 3,000 applications and supported 280 teams by giving them access to high-quality learning content on HP LIFE, dedicated coaching, mentoring, and customized support. It is now in its seventh year and interest has never been greater, with 572 teams applying from 87 countries.
Grace Lung, Senior Partnerships Manager at WorldSkills International, leads BeChangeMaker. She said, "I am so excited for Reyhan and Bahar from Altogether, and happy for all the finalists. We should not forget how far each one of them has come this year. To be selected from hundreds of applications is great in itself, but to make it to the final five is incredible. I have loved seeing them flourish and grow over the last two months. They should be proud of their progress, especially their efforts during the bootcamp here in Dublin and their impressive pitches on stage today. They are inspiring role models for any young entrepreneur wanting to make positive change."
The top five teams will receive EUR 1,000 worth of post-programme coaching, and the top three teams will receive an additional EUR 5,000 to develop their ideas further. Each of the finalists has also launched its own crowdfunding campaign, designed to attract more awareness, financial resources, and help the teams put their learning into practice.